The Importance of Safety Boots
Safety workwear is an essential part of the working life of many people and industries, and a good pair of safety boots can be one of the most important aspects of safety at work. Particularly on construction sites, or for anyone operating in warehouses or environments where machinery is frequently used, safety boots provide protection against injury, as well as comfort whilst working on your feet all day.
To assist you in selecting an appropriate safety boot, we will discuss the following:
Why are Safety Boots So Important?
Specifically designed safety boots, with the necessary safety features built-in for both comfort and injury prevention, are key to being able to do your job safely and comfortably, normal everyday boots won't do the job. Accidents do happen, so if you're wearing the right safety boots for the job then injury can still be prevented if they occur.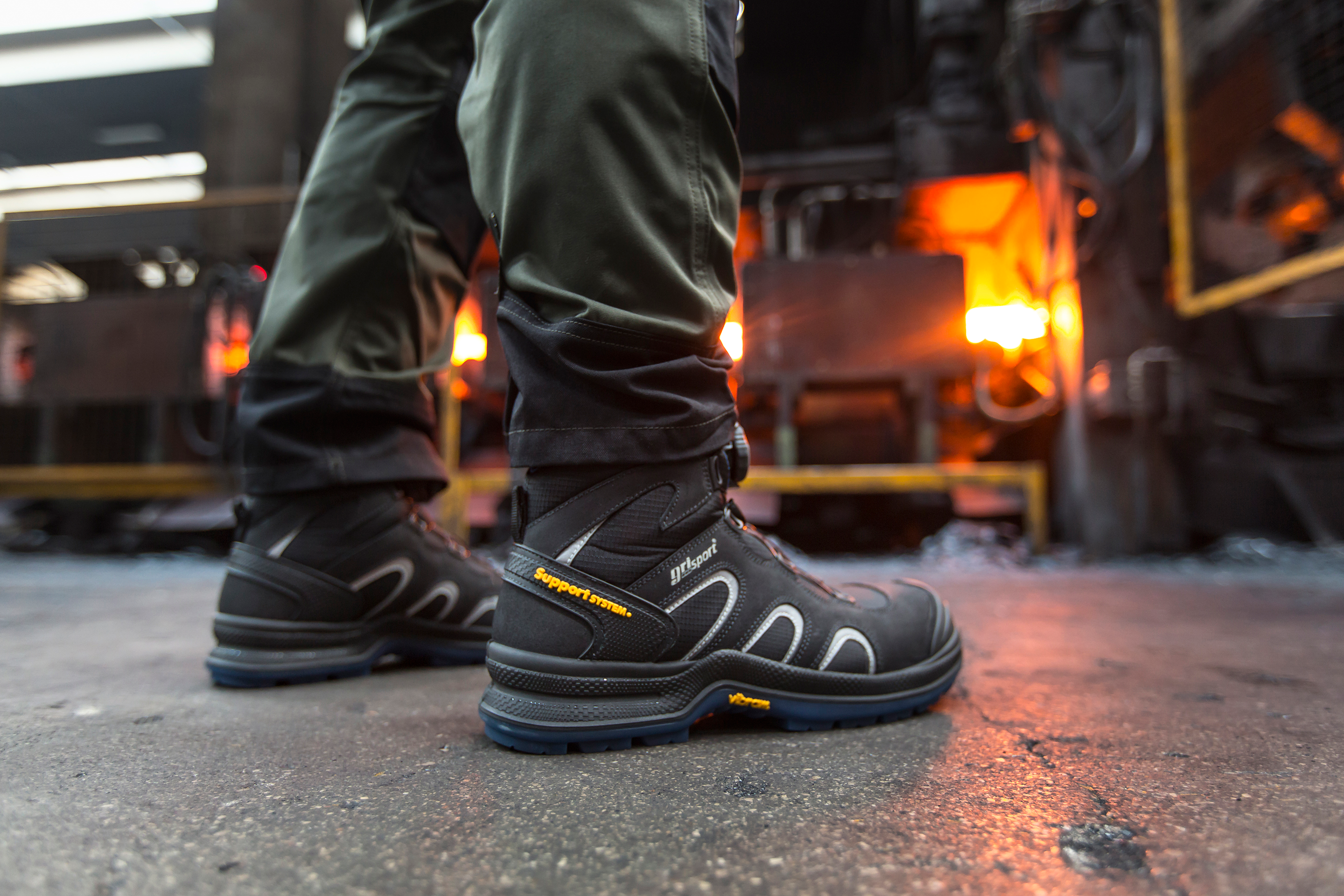 Prevention Of Injury
The number one reason for workers to be wearing safety boots is injury prevention. Safety shoes offer protection from punctures, cuts, burns, heavy impact and more. Safety boots also offer grip when walking on slippery or uneven surfaces, helping to prevent slips and falls which can lead to more serious problems such as broken bones and head injuries.
To Comply With Safety Laws
Safety at work should be a priority for any employer, especially in environments that pose a number of hazards to workers that can lead to foot injuries. Health and safety law requires employees to wear safety footwear where there is a real risk of injury, and employers need to comply with this.
Prevention of Fatigue
Comfort is an important element of Health & Safety at work when it comes to safety boots as if your footwear isn't comfortable it becomes more likely to cause injury or lead to accidents. When you're on your feet the last thing you want is a heavy and uncomfortable pair of boots tiring out your legs and feet.
Wearing a comfortable, well-fitting and supportive pair of lightweight safety boots can help to prevent fatigue and keep your feet happy throughout the day. The overall weight of the boots can impact fatigue on the feet and legs – the heavier the boots the greater chance of fatigue.
There's a common misconception that heavy boots are more durable, but this is not necessarily the case. Safety boots made from raw materials are extremely durable, and therefore lightweight safety boots are more comfortable.
Different Types of Safety Boots
Working environments can be vastly different from each other, so in order to get the best from your safety boots it is vital that you get an appropriate pair for the job you are doing and the environment in which you are working. The types of safety boots can therefore vary greatly too, and it's essential that workers select the correct safety footwear for the specific working environment and features that they offer.
Safe-toe boots are a type of protective footwear that provides protection from a number of hazards. This type of toe footwear is extremely durable and helps keep your feet safe and sound throughout the working day.
The safety boots' steel toe protects your toes from being crushed by falling, very heavy objects or materials, such as concrete, metal or wood.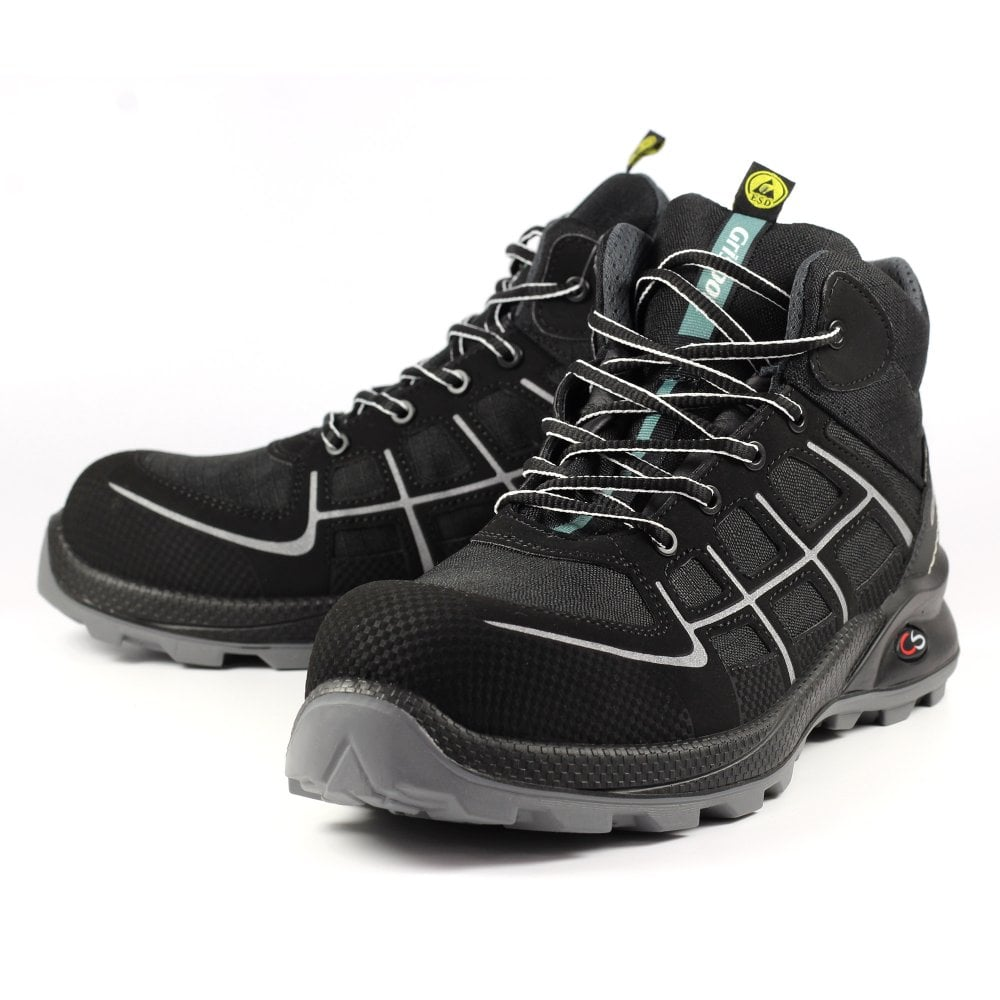 Our Lightweight Platform Safety Boots are lightweight, waterproof and extremely reliable, perfect for those who are after comfort and practicality whilst at work.
Puncture-resistant, steel insole boots offer enhanced safety, comfort and protection to the bottom of your feet.
Steel insole boots offer high protection from 'sharps', so these are a must for those working in environments where there's a risk of stepping on sharp objects. Steel insole boots can also help to align the skeletal structure to reduce foot, leg and lower-back fatigue.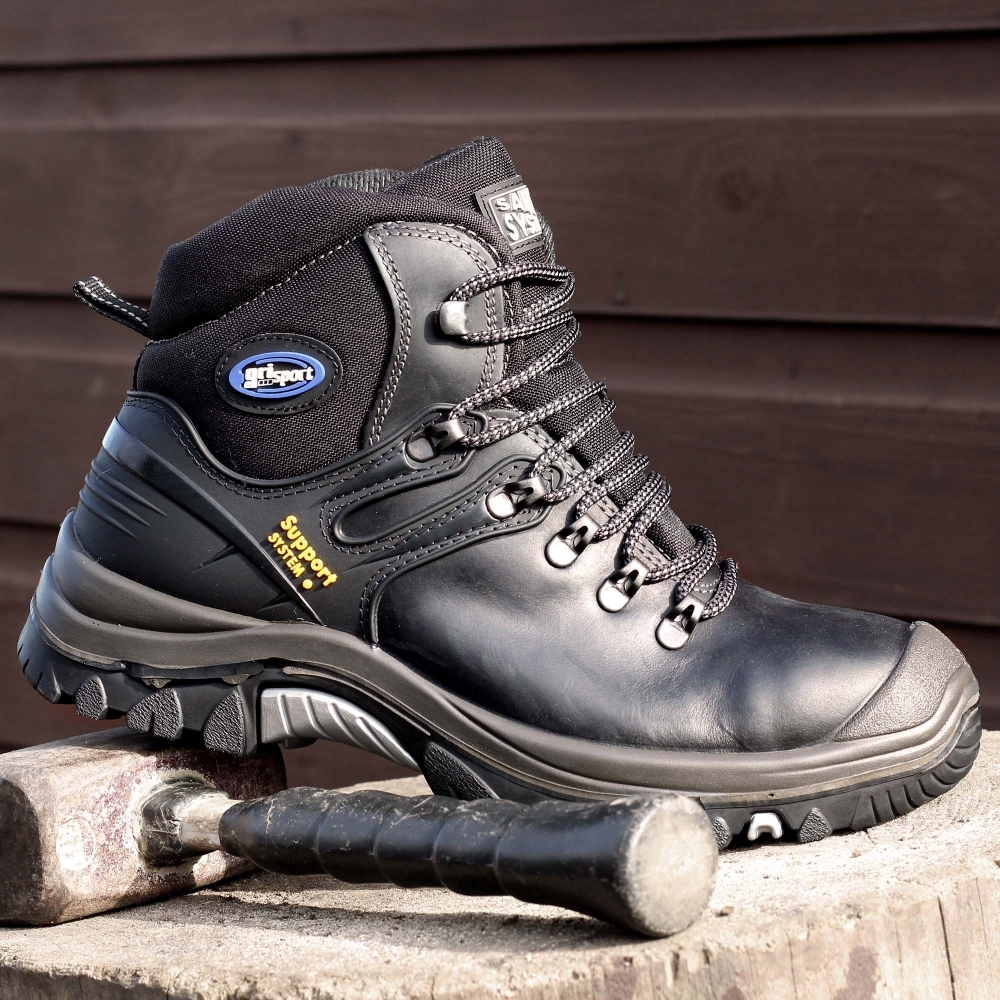 The Grisport Workmate Safety Boot has a flexible, jointed midsole design making it great for workmen who have to work at low levels regularly such as plumbers. These kinds of professions require work boots that have a sole that will bend, whilst still giving protection from sharp, obstructive objects.
Insulator Boots
If workers are in an environment where there are electric currents, or if a build-up of static electricity is common, insulator safety shoes are required that offer protection from electrical shock. These safety boots are made from non-conductive materials such as leather or rubber so as to prevent the chances of experiencing an electric shock.
The Grisport Thermo Safety Shoe is a lightweight safety trainer for functionality in a multitude of work environments.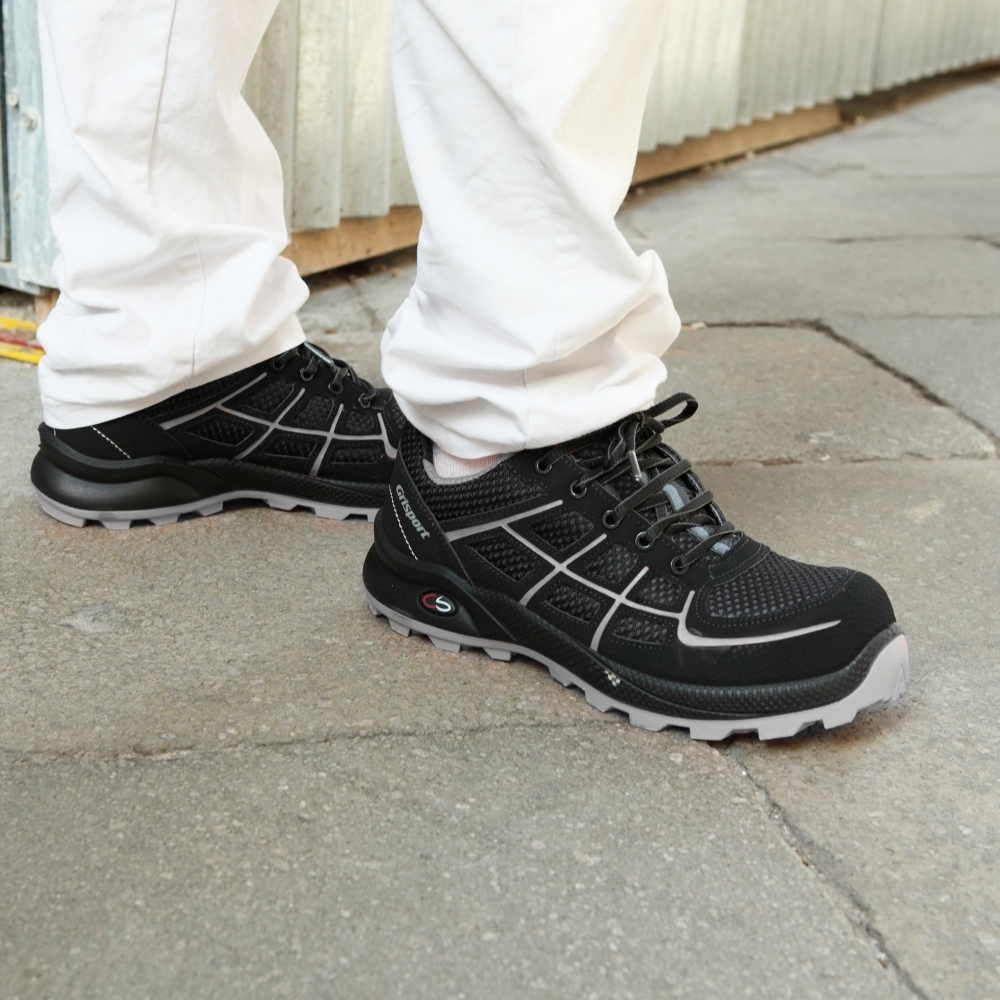 Other features safety boots have to prevent injuries
While safety boots fit into the above categories, they can also have additional features that give an extra layer of protection.
Steel Midsole
A safety boot with a steel midsole protects the sole of your foot in the event that you step on something sharp such as a nail or even broken glass. Much like a steel top cap, steel midsoles safety boots are an essential feature in protecting your feet from all potential on-ground or unintentional hazards.
The Grisport Contractor Brown Safety Boot comes with an anti-perforation steel midsole and a comfortable insole, making it feel less like a safety boot while still providing the necessary protection. It has a safety rating of S3 safety level, ensuring adequate protection within the workplace.
Grip
The risk of slipping or falling in a work environment can be increased depending on the conditions. There are many different factors that could result in a slippery surface – spilt liquids, a burst water pipe, polished floors or even just rain! Having a pair of safety work boots with slip-proof grips is essential to prevent the risk of falling.
Grisport's Combat Safety Boot is anti-slip which helps to prevent any unwanted injuries from occurring. As well as the sole being anti-slip, it is also grease resistant, heatproof and self-cleaning.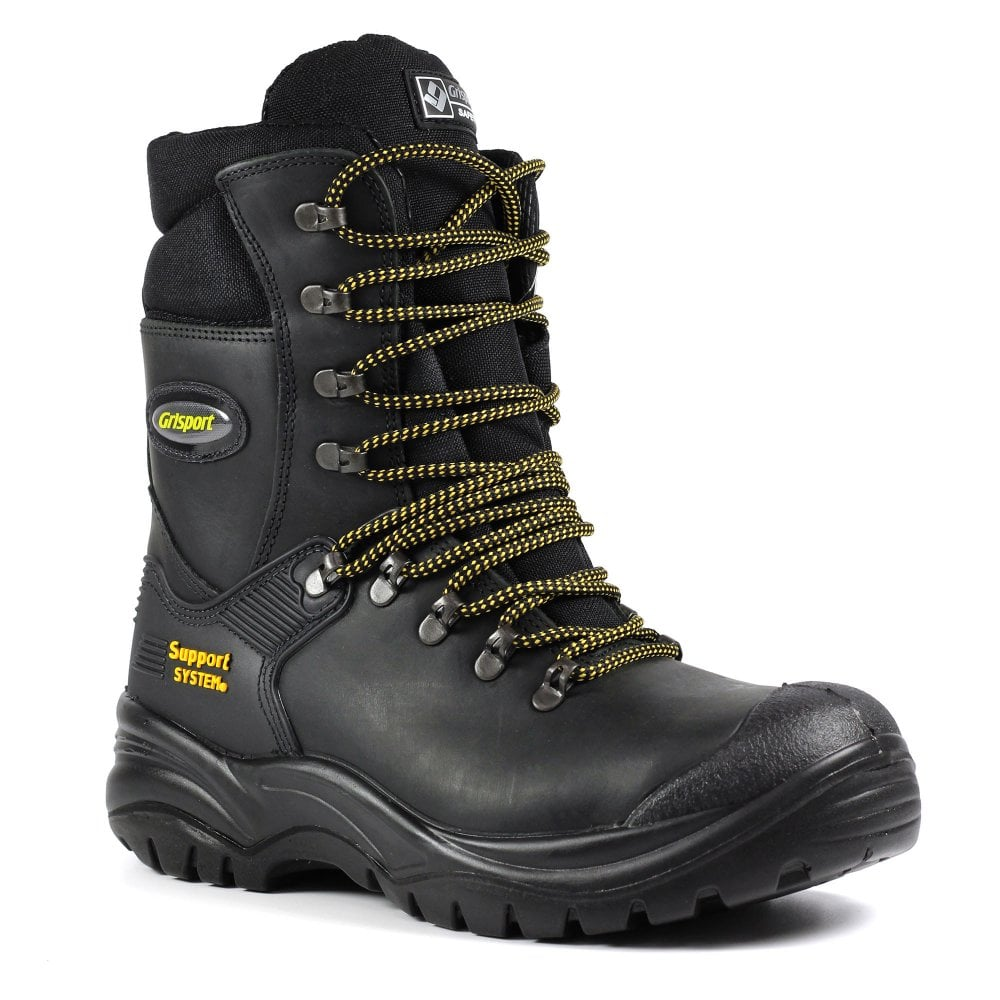 Support
For working environments that require heavy lifting, such as construction or trade, workers may require boots that offer extra support for their ankles. Packed with additional safety features, such as shockproof and slip-resistant soles, our safety ankle boots are designed with your safety in mind.
Work safety boots with ankle support are one of the best features to add comfort to your safety boots, as well as prevent injuries.
Grisport Safety Boots
Grisport safety boots are designed to withstand everything your job can throw at them, all while maintaining incredible comfort and support. We offer a wide wide range of work safety shoes such as; steel toe cap boots, steel mid-sole boots sole and slip-on safety boots.
For more information or tips on safety boots, and which safety boots are best for you, then take a look at the range of Grisport safety boots here.